10th Scottish Colours Tour: Contemporary Celtic Music from Scotland and Canada |
September 14th 2017
More information here.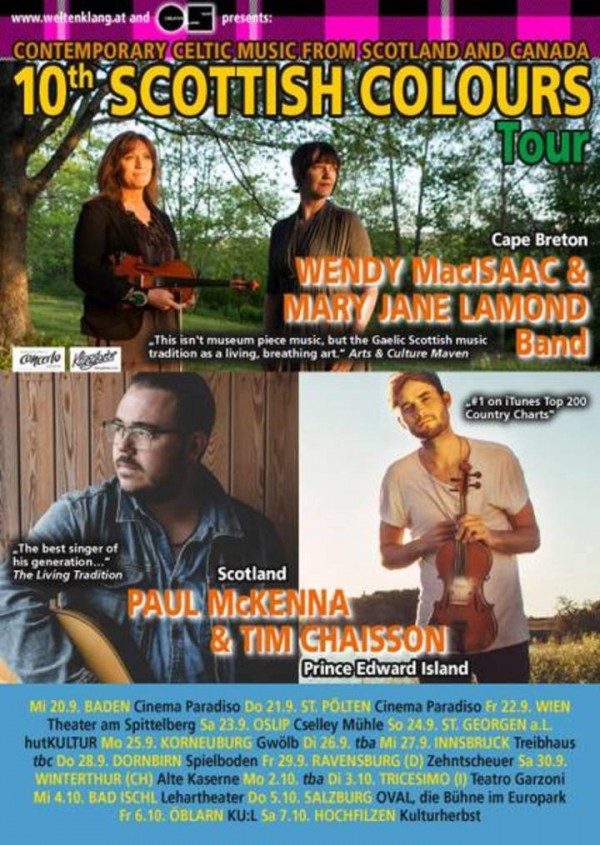 See you at Celtic Colours! |
June 23rd 2016
We are very happy to say that we will be performing at the 20th Anniversary celebration of Celtic Colours this October.
Very much looking forward to seeing everyone and playing some music in front of the wonderful audiences Celtic Colours draws!
Big congrats to everyone at Celtic Colours for 20 years of your amazing festival!
See you there!
Mary Jane & Wendy celebrate International Women's Day with The Ann Terry Society |
February 18th 2016
Mary Jane Lamond and Wendy MacIsaac – Piping Live with Cathy Porter (BBC) |
January 12th 2016
In August, Mary Jane and Wendy went to Glasgow, Scotland for Piping Live with Cathy Porter.
They were lucky to have Ross Martin join them for the week on guitar and Finlay MacDonald on pipes and whistle join them for this BBC recording. Super fun playing with these guys!!
CFMA and MNS Award Nominations for Wendy's album "Off The Floor" |
September 15th 2015
Wendy's album "Off The Floor" has been nominated for a Canadian Folk Music Award (Instrumental Solo Artist of the Year) and a Nova Scotia Music Award (Traditional/Roots Recording of the Year)! Congratulations, Wendy!
"How To Be a Professional Celtic Musician" With Mary Jane & Wendy |
June 22nd 2015

Mary Jane gives some pointers on how to professionally record your very own Gaelic demos!