"How To Be a Professional Celtic Musician" With Mary Jane & Wendy |
June 22nd 2015
Mary Jane gives some pointers on how to professionally record your very own Gaelic demos!
Wendy MacIsaac & Friends this weekend at the Carleton |
June 10th 2015
Summer's right around the corner and the Carleton is celebrating with an afternoon cèilidh with Wendy MacIsaac & Friends, featuring very special appearances from PEI's Meaghan Blanchard and the UK's flat-out amazing claw-hammer banjo phenom Dan Walsh! The show is this Saturday, June 13th and will start at 2 PM. Tickets are $10.
You can get your tickets and read more about the event and special guests here.
Wendy MacIsaac & Friends – Featuring Meaghan Blanchard & Dan Walsh
June 13, 2015
2:00 pm – 6:00 pm
Wendy MacIsaac's "Off The Floor" wins an ECMA! |
April 13th 2015
Taking shelter from a fierce thunder and lightening storm |
February 11th 2015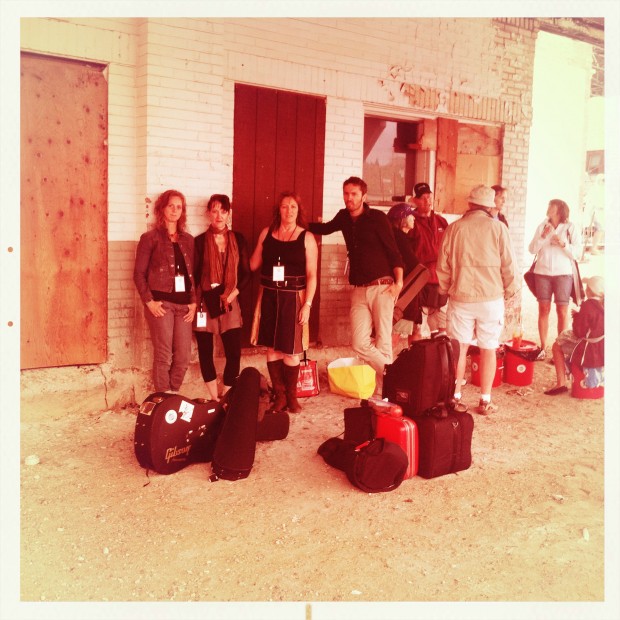 "Someone just came across this photo. Hmm, it might look like we've been evicted from our hotel rooms but in fact we were sheltering from a storm. We had been on one of those big metal outdoor stages at the Montana Folk Festival, (http://montanafolkfestival.com/) in Butte, when, all of a sudden, the skies opened up and the stage manager started chasing everyone off the stage saying, "Big thunderstorm coming our way, about four miles off." So we went to the little tent behind the stage until we were told that it wasn't safe there either, as it had metal poles. (We aren't very flash lightening storm saavy, apparently!)
So there we were, in the closest place to shelter, looking homeless, but happy.
The Montana Folk Festival is great, by the way. A stunning location, incredible history and architecture, wonderful people and lots of great traditional music, and it's free! We had a great time there."
– Mary Jane
Wendy MacIsaac receives 2015 ECMA Nomination |
January 29th 2015
Wendy MasIsaac's recent solo release, Off The Floor, has been nominated for a 2015 ECMA for Traditional Instrumental Recording of the Year! Congratulations, Wendy!
Clean The Air Concert – Sept 9 |
August 31st 2014
On Saturday September 9th Mary Jane Lamond and Wendy MacIsaac will be performing in the Clean The Air concert in Pictou, Nova Scotia to raise awareness about air pollution in the area. The show is free, and the more people that show their support, the more government will listen. If you'd like to read more about it, you can go to the Clean The Mill website.